You want to find out what you really, really want? What kind of "career" or job in general fits you?
You are currently in a challenging situation, perhaps have taken on a new role or task and do not yet know how to deal with it?
You would like to position yourself differently?
You are faced with a difficult decision?
You are faced with change and want to master it well?
There is a variety of topics and reasons for coaching. Let's discuss together how I can support you.
Create the life you really want out of your ingredients!
Neben individuellem Coaching biete ich auch regelmäßig Trainings und Meetups zu verschiedenen Themen wie Führung, Persönlichkeitsentwicklung, Neuem Arbeiten, Kommunikation oder Kreativität an.
How we work together
in coaching.
In my coaching sessions, I work according to the systemic coaching approach.
Depending on the topic, I use different methods - such as special questioning techniques, body work, breathing exercises, systemic constellation work, visualization or creativity techniques. I also integrate insights from neuroscience, learning psychology, etc. into my work.
My coachings are meant to bring refreshment, lightness and joy of life - even with serious topics. According to the motto "when life gives you lemons, make lemonade out of them" we look together what we can create with the lemons in your life!  
What you get from
LIMONATA COACHING
What is
systemic coaching?
The issues people come to coaching with are as diverse as the people themselves.
A few examples:
When is coaching not useful?
How does this actually work?
At the beginning we have a non-binding meeting to get to know each other. During this meeting, we will clarify whether coaching is right for you and whether the chemistry between us is right. If you then commit to a coaching process, we will conclude a coaching agreement in which we will define the terms and conditions.

A coaching session usually lasts 120 minutes. The coaching sessions are also possible in the evenings as well as on weekends (subject to availability). We decide on the location together - I have various spaces in Bonn and Cologne, but we might also arrange a COACHING TO GO in the forest or on the Rhine or meet in a café. And of course coaching is also possible online (via Zoom).
How does this actually work?
In coaching, we work on particular issues, i.e. very specifically on your goals. From this we also derive how often and at what intervals we meet. Most issues are about changing behavior - and experience shows that this takes some time. That's why I mainly offer packages over several months. Book a free appointment with me - and let's see what is right for you. Everything we discuss in coaching is subject to confidentiality and will be treated confidentially by me.

In the case of a work-related concern, your employer may cover the cost of coaching. Please note that different prices apply for corporate clients. Just contact me for more information.
"Nothing changes. Until you change yourself. And suddenly everything changes."
Die professionelle Begleitung meiner beruflichen Neuorientierung durch Luisa hat mir sehr geholfen, Entscheidungen wieder mit mehr Leichtigkeit zu treffen. Und herauszufinden, was ich wirklich will, was ich wirklich fühle und welche Handlungs- und Denkmuster mir manchmal im Wege stehen. Luisa hat gezielt die für mich passenden Methoden ausgewählt und mich souverän durch den Prozess geführt. Ich habe sie als empathisch, klug und fröhlich erlebt, so dass ich mich auf jede unserer Sessions gefreut habe, auch wenn ich da wirklich hart arbeiten musste 🙂
Auf meiner Reise zur glücklichsten Version von mir habe ich einen Stop bei der lieben Luisa gemacht und mir die Standortbestimmung gegönnt. Dank dem Modell und dem Austausch mit Luisa ist mir bewusst geworden wie viele Rollen ich in meinem Leben spiele! Das Tool verschafft Transparenz und lädt zum Nachdenken ein. Falls Du gespannt bist, wohin Deine Reise hingeht, wird auch für Dich die Standortbestimmung sehr hilfreich sein! Mit ihren kreativen Denkansätzen und Coaching-Methoden konnte ich einen wichtigen Schritt machen. Ich bin sehr froh, das Coaching bei Luisa gemacht zu haben, und kann es jedem empfehlen, der/die eine Prozessbegleiterin sucht!
Geleitet durch die Fragen: Was will ich beruflich machen? Wie will und kann ich mich weiterentwickeln? Wie soll mein Aufgabengebiet aussehen? Habe ich in Luisa eine Prozessbegleiterin gefunden, bei der ich von Anfang an das Gefühl hatte:
Hier geht es um mich.
Mit ihren kreativen Denkansätzen und Coaching-Methoden konnte ich einen wichtigen Schritt machen. Ich bin sehr froh, das Coaching bei Luisa gemacht zu haben, und kann es jedem empfehlen, der/die eine Prozessbegleiterin sucht!
Luisa hat mir mit ihrer sympathischen, offenen Art in einer undurchsichtigen Situation zu mehr Klarheit verholfen. Mit ihren Methoden, aber auch ihrem flexiblen Ansatz hat sie im Ergebnis meine Erwartungen bei weitem übertroffen und ich kann jedem nur von ganzem Herzen ein Coaching bei Luisa empfehlen. Vielen, vielen Dank!
Mit Luisa Bergholz habe ich herausgearbeitet, was ich wirklich gut kann und und wo mein Mehrwert für Auftraggeber liegt. Ich habe mich und meine Fähigkeiten neu wertschätzen gelernt. Luisa ist ein inspirierender und beflügelnder Coach! Danke dir sehr Luisa!
Luisa hat mich im Zusammenhang mit meiner beruflichen Neuausrichtung gecoacht. Das systematische Vorgehen und auf meine Fragestellung zugeschnitten Coaching haben mich persönlich weiter gebracht und mir einen geschärften Blick auf meine Werte eröffnet. Luisa richtet das Coaching bedürfnisorientiert aus und behält gleichzeitig die übergeordnete Fragestellung im Blick. Die Arbeit mit Luisa kann ich sehr empfehlen.
Luisa has huge sources of positive energy. During my career coaching session, she truly went above and beyond my expectations. Her approach is flexible, proactive with a good sense of logic. After our session, I feel much lighter and calmer and I feel that I received valuable information that can help me reach my end goal. Besides being an amazing and positive person, Luisa is truly a coaching expert and I highly recommend her!
I joined a career focused coaching session with Luisa and it was really useful. She helped me go through my thoughts and come up with an effective plan that I wouldn't have established by myself. She was patient, approachable and asked the right questions that guided me to come up with solutions. Overall, an awesome experience with a lovely person. I would definitely recommend!
Luisa's coaching process is not only compassionate and understanding, but also holds you accountable for living up to your life's expectations. My energy level will never be the same after this--thank you Luisa, I highly recommend you as a coach!
"Das Coaching mit Luisa Bergholz war sehr hilfreich für meine persönliche Entwicklung. Ihr aktives Zuhören zusammen mit den passenden Fragestellungen empfand ich als besonders unterstützend. Insbesondere ihr wertschätzender und offener Umgang mit anderen und ihre freundliche Art macht sie zu einer tollen Gesprächspartnerin."
"The seminar yesterday you have done really great!!! You are with so much enthusiasm and can convey your knowledge very well, I find very great!"
"It was a pleasure to get new input and to be accompanied so wonderfully by you!"
"Many beautiful impulses!"
"I also find the additional material that you provide great - that alone makes your offer very valuable and recommendable."
"Incredibly inspiring!"
"Ho trovato questa sessione molto interessante ed affascinante perché una volta di più mi ha dato modo di vedere come la mente lavora in modo elastico e profondo quando viene lasciata libera. Luisa è una professionista, e nonostante alcune piccole difficoltà nel comprendere la sottigliezza di certe definizioni non essendo di madrelingua italiana, ha dimostrato di essere sinceramente interessata a capire bene fino in fondo quel che intendessi andando a cercare la traduzione e chiedendo maggiori lumi direttamente a me. consiglio vivamente a tutti di provare il coaching con Luisa."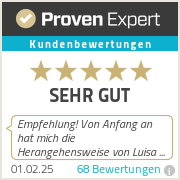 "Luisa has helped me to become aware of my strengths, with which I go on the job market.
I am thrilled how Luisa has managed to raise my awareness of what I have already achieved so far with targeted questions and coaching methods.
She has convinced me with her competence, her joie de vivre and her authenticity!"
Jule, Master Student
Do you have questions about what I do or are you unsure if coaching is right for you? 
Let's discuss together how I can support you - of course without any obligation and free of charge.